Building a custom home is a dream come true for many people. A new custom home is the ultimate symbol of success, a place of pride, and a space of comfort and warmth. When you embark on the new home-building journey, there are a few important things that you must know to ensure that your dream home becomes a reality. In this blog post, we'll share the top 20 things you must know when constructing a perfect home.
Have a clear vision of your new home-building journey
It's important to have a plan before breaking ground on new projects.
Have you envisioned the future of your home? What will it look like? How will your spaces be designed and how they'll be used? It's important to evaluate all these factors ahead of time, then patiently assemble them into a clear vision of what you want.
Think about colors, and specific design styles, and make sure you are aware of which items need to fit into which spaces. Think objectively about the goals that you have the budget to accomplish—decide what is feasible and necessary for the finished outcome. Picture your future abode, with all its dreams made tangible. Take the time to customize a plan including details such as colors & textured; see if there are steps that are appropriate enough for both your wishlist and bank account.
Set an overall goal around quality as well so custom home builders can help ensure each creation achieves an even higher degree of accomplishment than was imagined. Get organized and nothing can stand between you and your smartly crafted custom construction!
Choose the right custom home builder
Finding the right custom home builder is essential. Fortunately, you can do some detective work and choose home builders wisely—beyond just searching "custom homes near me".
Research prospective builders and their portfolios—make sure they have a track 
record of similar projects. Better yet, contact clients who've actually worked with them. Request references to verify their expertise and reputation. Surveying previous customers will give you peace of mind as you trust someone to turn your vision into reality.
Select the right location for your dream home
If you're on the search for a new home, it pays to remember that location and land matter. Whether in the country or city, the right choice in this department can mean added resale value down the road when you decide it's time to upgrade.
So what ingredients make a great site to jump into a new home? Begin by searching somewhere convenient, and browse surrounded by nearby amenities like schools, shopping options, and public transport hubs. Convenience and connectivity do more than just add convenience—they can also enhance your property's resale potential. Sometimes, that dream home build might seem miles away but with great access to the local amenities surrounding it, then maybe those few extra miles are worth the investment!
Building a custom construction can be quite a financial hurdle to navigate. That's why it's essential to approach your project with a realistic budget hand in hand. If these costs are thoughtfully considered ahead the time, buying your dream house could unfold without any unexpected issues in the works.
So envisage each component of the construction; is there an underrated expense requiring attention? Did you plan for full exterior cladding that won't strain your pocket? All these details should form a contextual entirety when putting together a winning budget strategy. Lastly, make sure it cannot be supplanted by unreasonable expenses encroaching on your build later on!
Invest in quality materials
When it comes to construction, settle for nothing less than quality materials. Using inferior products can compromise the integrity and durability of your custom build, meaning you'll sacrifice reliability in exchange for immediate savings. To ensure your house stands strong for generations, pay close attention to what you choose—from foundation components to essential finishes.
The right ingredients will mean dependable performance and a completely worry-free future. High-quality materials promise style that lasts a lifetime so why shortchange yourself when constructing the build of your dreams?
Spend on the parts of the house that are not easily upgradable at first. The cabinets and kitchen counters look amazing but can easily be upgraded in the future. Spend your money on great insulation, custom wiring, and things that will be expensive and a pain to upgrade after the new custom home is built.
Invest heavily in only the best and have confidence you've all but guaranteed maximum satisfaction now and into the years ahead.
Prioritize energy efficiency
When making decisions regarding the long-term future of your build, explore energy-efficient features!
Take insulation, for example. Making sure that your home builders use high-quality insulation that will prevent heat from escaping in the winter and keep warm air from leaking out during the summer. That way, you're not paying to heat or cool an empty house! Pretty good for business!
Windows are also contributing factors to efficiency; double-glazed windows that come with low E coatings help reduce drafts and air leakage into any type of climate you find yourself situated in.
Finally, consider upgrading your HVAC systems for extra control over the temperature parameters in your house for optimal family comfort and you won't break the bank on energy bills in the long run!
Wouldn't it be wonderful to find a home with the perfect orientation? You could maximize natural light and minimize harsh weather conditions…what a dream!
Orienting your home to take advantage of these benefits can save energy, sunlight, and frustration. Strategically placing yourself in certain temperatures can add even more value—both emotionally and financially. Navigating your surroundings may be key to getting the most out of your home.
Don't forget about lighting
Lighting is an integral part of decorating and designing any room. When done right, it can take a space from dull and lifeless to enlightening and inviting. A single light fixture in the wrong place can ruin the moment, disrupting the aesthetic energy.
Get it right, though, and suddenly, that boring box of a room comes alive—ambiance can come out of the shadows when lighting is in balance. Not to mention its functional side: No matter what else you do, without proper lighting, your home's spaces can't be productive or inviting; so whatever look you're going for, start (and end) with the lumens for impressively alluring results.
Incorporate smart technology
Smart home technology can be your guardian angel, keeping those pesky energy bills in check and providing a safe haven for the family of the future. Perfect for whether they're checking who's at the front door or dimming their lights, convenience has never been easier with the latest data collection and smart technologies.
Being outfitted with up-to-date sensors and analytic software allows you to utilize every inch of your space with invaluable insights and optimization. Altogether, enhancing your way of living through cutting-edge technology makes life simpler and more efficient.
Invest in a good HVAC system
Staying in an environment with proper ventilation is the key to your family's health and comfort. Indoor air quality plays an integral role in keeping everyone feeling their best. After all, who doesn't want their family members to enjoy the fullest health? No one!
The fact of the matter is that having clean air at home just makes overall life a little better, so why pass it up? With a few small tweaks, you can guarantee fresh and free in fresh free every day. It's not just a pleasure – it's a must!
Your custom home should be a place that's ready both for your current needs, and ready for the future.
Whether you are just starting out, or looking ahead to the days when your family expands, a custom house that is built with care is the perfect haven that accommodates everyone. Personalize and design it to give flexibility for new plans, be larger to include all those extra bedrooms and even reimagine a custom workspace in anticipation of potential interests down the line. With options that keep up long after completion day, you have an assurance of longevity no matter what changes progress in years ahead.
Living in your home long-term is ideal…but there are some important considerations in making sure it's accessible to all guests—especially those with impaired mobility.
No one should be excluded when it comes to visiting and being comfortable within your own home. That's why it's so important to think about optional accessibility accommodations for the mobility-impaired individuals that visit or live in your space. Making adjustments now so everyone can use your home will invite an inclusive atmosphere for years to come!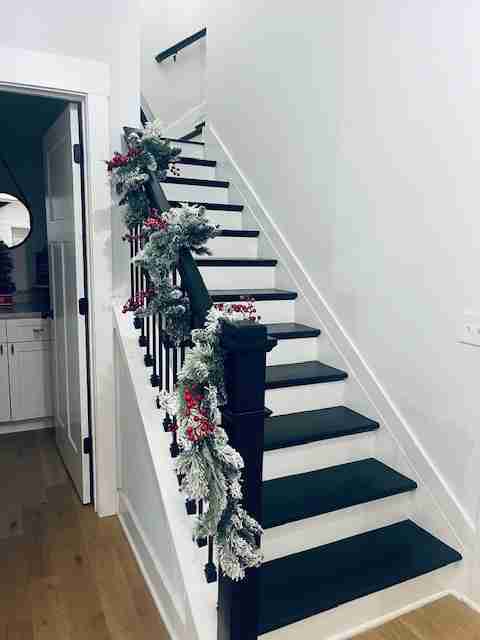 You want your home to make a first impression that lasts, so it's worth investing in an eye-catching exterior! Curb appeal influences how your guests, neighbors, and even potential home buyers view your house. Keep your exterior clean and tidy with strategic landscaping, and be sure to spruce up the façade from time to time for added pizzazz. Who knows? It might give future visitors the warmest of welcomes!
On the flip side, a pretty home is certainly a desirable feature in any abode; but wouldn't utilitarian considerations, peace of mind, and well-being be worth even more? To this end, when looking for homes, it is important to emphasize NOT ONLY customize aesthetics but also factors such as ease of use, effectiveness, and (most of all) safety. All these play an equal role in evaluating a living space. Consider these points before getting locked into "just the look"!
We all know that space is money, but maybe not when it comes to storage—you can never have too much!
Maximize your floor area by investing in built-in cabinets and closets. Create extra space for everything from folded clothes to electronics with modern storage systems. Integrating hidden nooks and crannies ensures that places like the kitchen, living room, or even hallways, won't go wasted. No square inch of the living area will go unused!
Transform your dream home into an oasis with luxe outdoor escapes. Create dreamy terraces, wrap-around decks, and inviting gardens to make your land even more unique. Adding adequate access to these nature havens will allow you to enjoy the region that you live in, letting you step beyond the comfort of your own property!
Plan for natural disasters
Designing and building a unique construction in an area that sometimes experiences natural disasters, like hurricanes or earthquakes, is no easy task. To ensure that the finished property is secure and safe, certain guidelines must be followed. Building codes and specific services must be used to make sure the house is protected from additional threats.
At the same time, however, it's important for the end product to look great as well. So, be sure to strike a balance between possessing enough strength to withstand these events, while also having attractive aesthetics!
Prepare for the unexpected
Planning to build a custom house? Before you get started, keep in mind that projects like this can often present unpredictable hiccups that can affect the price.
Set aside extra funds just in case and make sure budgets include some leeway. Plan ahead to remain prepared for whatever presents itself—have a backup strategy in the event something out of the ordinary is encountered or prices are raised! Forewarned is forearmed after all!
When constructing your dream abode, it's essential to keep another primary objective in mind: resale value.
Sure, a custom space is a pricey venture, but savvy home builders recognize that capitalizing on the ROI of their passion project requires being mindful of it for years and years to come. Investing time and money into creating high-caliber finished products should not be taken lightly; thinking ahead to when it may eventually land back onto the market and anticipating potential trends will save owners future added resources and worry.
Building a new custom build can be a stressful process, but don't forget to enjoy the journey. Celebrate milestones and cherish the memories made during the process.
Building a custom home is an exciting journey that requires proper planning, budgeting, and commitment. By keeping these 20 essential things in mind, you can ensure that you choose the best home builders and build your dream house that's not only beautiful but functional, comfortable, and safe. With the right team, tools, and strategy, you can make your dream a reality.